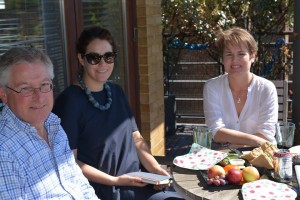 The Judges are pleased to announce the First Novel Prize 2016 Shortlist.
Clarissa N. Goenawan – Rainbirds
Elisabeth Lee – A Sense of Belonging
EJ Pepper – The Colours of the Dance
Fiona Armstrong – Scar Tissue
Gillian McAllister – For the Life of Me
Gregory Warwick Hensen – Pelsaert's Nightmare
Jo Baldwin – Poisoned Fruit
Martin White – Life Unfinished
Vikki McLean – The Echoes
Yaara Lahav Gregory – Night Swimming in the Jordan
Congratulations to all finalists!
'I'm delighted with the strong shortlist we have for the first year of the prize. I feel that we have discovered some exciting new talent – the shortlist is full of interesting and diverse voices who all contribute something different,' Carla Josephson, editor at Simon & Schuster and Prize judge.
'I was amazed and delighted by the high quality of the entries. Whittling down a shortlist is always tricky, but we're pleased with this result as it represents an array of fresh talent across a number of genres. I look forward to arguing amongst ourselves to decide the winner!' Robin Wade, literary agent at Wade and Co. and Prize judge.
'Making a selection for the First Novel Prize shortlist was one of the hardest things I have ever had to do – it's a pleasure to make a selection and a sorrow to leave so much new talent out. We have had an overwhelming response to our new literary Prize, both in terms of number and quality of entries. We have a shortlist of amazing new voices to work with and we are thrilled to note that it reflects the wide range of genres entered in the Prize,' Lorena Goldsmith, literary consultant at Daniel Goldsmith Associates and Prize judge.
We will announce the winner and the two runners-up by the end of September.